Exterior Basement Waterproofing Services in Erie PA and Surrounding Areas.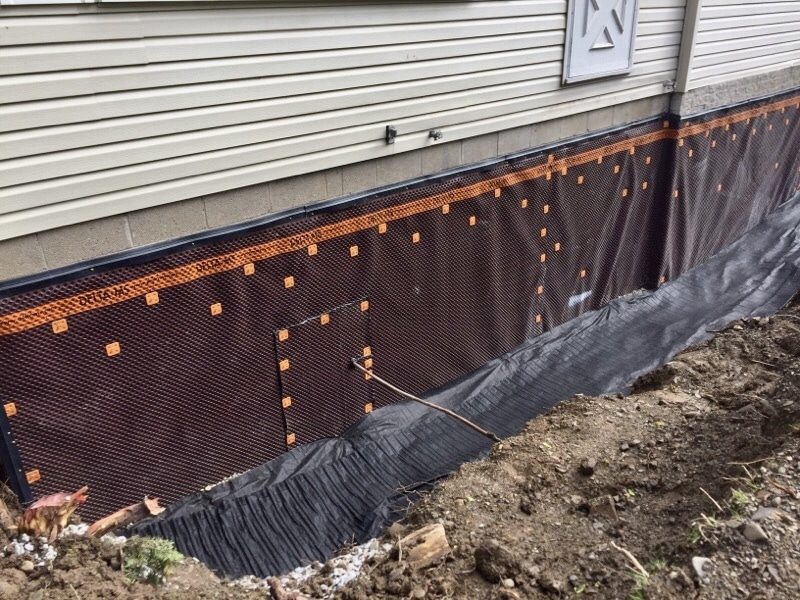 Are you tired of having a wet basement area? Or are you considering calling in an excavation and waterproofing specialist? Antonio and Son Contracting, LLC is a trusted contractor for masonry repair and restoration solutions that include basement waterproofing services.
As an approved commercial exterior waterproofing contractor, our certified technicians provide custom solutions that spell excellence and superior workmanship.

More often when you think about basement waterproofing, the first thing that pops up in your mind is interior waterproofing techniques like sump pumps or perimeter drains. These techniques for basement waterproofing are good at preventing water from entering your basement to cause damage. 
Our Exterior Basement Waterproofing Solutions
Exterior waterproofing takes a more proactive approach than the usual basement waterproofing. Instead of capturing water that has already sipped into your basement, our exterior waterproofing solutions stop water from entering your basement or the crawl spaces.
Generally, water enters your basement through window sills that were not properly sealed or cracks in the basement floor or walls. Moisture issues can cause damage not only to anything kept in the basement but also to your wood, drywall, carpet and other stuff. So, why wait until signs start to show when a premier exterior waterproofing contractor like Antonio and Son Contracting, LLC is just a phone call away?
Seal Exterior Foundation Walls with DELTA®-MS Membrane Waterproofing System
Our exterior waterproofing process involves excavation around your home's foundation before applying a DELTA®-MS Membrane. This waterproofing product is highly innovative as it blocks water from entering the structure in the first place. This is what you really need if you plan to convert your basement to a living space.
Protecting your basements from moisture and water is critical. Our in-house team of basement waterproofing experts in Erie uses exceptional products like DELTA®-MS Membrane on the outside of your house. The flexible dimpled Polyethylene membrane uses our exclusive "air gap" technology to prevent water from getting to the foundation wall, ensuring your basements remain dry and last longer.
For over 40 years, we have been providing a wide range of solutions that enable us to better meet your unique needs regardless of where you're situated in Erie, PA and the surrounding areas. From brick repair, foundation repair to basement waterproofing, we are a dependable contractor that offers flexible and innovative solutions for incredible results and complete satisfaction for our customers.
Long-lasting Moisture Protection and Satisfaction
The vacuum-created dimpled pattern forms an air gap between the foundation and the membrane, allowing all water to drain. By keeping water far from the foundation wall, our superior DELTA®-MS membrane leaves basements permanently dry and safeguarded. Unlike sprays which often crack whenever the concrete walls crack, DELTA®-MS bridges existing cracks preventing any water from entering. The damp-proofing feature guarantees cozier and healthier living spaces for homeowners; enhanced durability and efficiency of your buildings and fewer if any warranties and call backs.
Unlike sprays, DELTA®-MS membrane does not need specialized safety equipment and you won't have to wait forever for the concrete to dry up or for the fumes to dissipate to make the installation easier, faster and more affordable. Thanks to the thorough DELTA® Academy Certified-Installer Program, superior workmanship is guaranteed backed by an industry-leading warranty. We are happy to inspect your basement and answer any questions you may have regarding waterproofing. Contact us today for a free exterior waterproofing estimate!